The Team
Clearly Organized has a wealth of resources to help its clients and their organizational dilemmas. We pair our clients with just the right organizer with the right "chemistry" and skill sets to tackle any problem. Team members are experienced, thorough, trained and uphold the highest standards of confidentiality.
---
Toni Ahlgren
Meet Toni Ahlgren, owner of Clearly Organized for the past 30+ years.
Toni was born with the organizing gene: she can't help herself. She was continually asked by friends and family to help make order in closets, organize a kitchen or set up a filing system. Since 1992, when Clearly Organized was born, Toni has helped her clients simplify their offices, homes and lives. She has a background in office administration, worked as a tour guide in Napa Valley wineries, was Executive Director of a suicide prevention non-profit, and was office manager of an accounting business.
Member, NAPO (National Association of Professional Organizers)
Author, Organize Your Stuff the Lazy Way and Manage Your Time the Lazy Way, published by Macmillan, 1999.
Co-Author, Get Organized Today, published by PowerDynamics Publishing, 2010

References on

request; confidentiality guaranteed.
---

A NEW TEAM MEMBER!

Clearly Organized has grown as the demand for custom closets and various storage systems has increased. To help with the workload, Denise Jones has come to the rescue. She is a talented designer with a great eye, a knack for maximizing space, and making it look great!  Thank you, and welcome, Denise!

CONTRACTOR

This is the man that makes it happen! Jorgo is an experienced, licensed contractor who specializes in building every sort of storage system.  His work is excellent, using highest quality materials and hardware and sturdy construction techniques, all from a small, local shop. No need for glossy brochures, fancy showrooms or full-page magazine ads, so your project will be very competitively priced with guaranteed results.

---

Consultations

Initial complimentary half hour consultations are offered, either in person, by Skype or photographs. Contact Toni today to learn how she can help you get organized!

"

Toni is a master in her field. She redesigned my office space and walk-in closet several years ago and I continue to be impressed with her impeccable taste and fine design work.

She was invaluable to me in cleaning out my office and my closet beforehand and then helping me set things back up in an organized and efficient manner, which continues to work for me today. And, all was done with an incredible sense of humor! It was a true joy working with Toni and I would not hesitate to do so again.

"
– Kathrich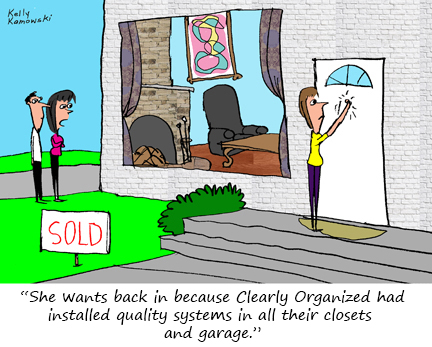 Clearly Organized

serves Marin, Sonoma, Napa, and San Francisco.
Call Toni today
(415) 444-5596 Office
---